November 29, 2013
For the "Gift as Problem" exhibit in Berlin, an interactive piece that offers gift vouchers to be taken by the public. The vouchers may be redeemed by whoever is willing to accept them at either face value or for any other negotiated and agreed upon item. Each voucher has a code that can be used to document its life and circulation in the gift economy.
October 15, 2018
Why buy art? A new form of ownership powered by the blockchain reaffirms many good reasons for doing it, plus one more: enriching the cultural commons.
March 15, 2015
Inspiration for new types of money towards a better possible world. A website to collect articles and references from my research on the topic of art & alternative currencies.
January 9, 2015
Alternative currencies created as works of art. Article for MCD Magazine's special Money Issue. Read online
October 4, 2014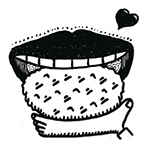 Food has been and should remain part of the Commons. Download this PDF booklet with three recipes chosen as a tribute the Open Source Food movement. Prepared specially for the Berlin Unlimited Festival in collaboration with Entretempo Kitchen Gallery.
March 26, 2014
I gave a lecture and a workshop about Open Source Design at FH Salzburg. The documentation includes photos, videos and PDF materials.
December 18, 2010
This was the subject of the Chance Conference in Aix-en-Provence.
I gave a talk about  "Artistic collaboration through mobile devices and networks in the urban space."
November 4, 2010
This was the theme for the roundtable I participated in at the arte.mov Festival in Porto Alegre. This edition was about "new urban cartographies: ecology of emerging languages". You can watch the video recording here (portuguese only)
September 15, 2009
Continuum, the Itaú Cultural Magazine, interviewed me and other people about strategies to disconnect in an increasingly connected world. I talked about my love for call screening and waterproof cellphones. (Portuguese only PDF and link)
January 18, 2008
Talk I presented at WIF 2008 about web art tendencies. Among them:
subverted web
the code is the artist
web and the real world
web activism
collective authorship
download presentation pdf (portuguese only)
October 24, 2007
I gave a talk about art & collaboration in Shanghai, invited by re|act festival. The presentation is available as a PDF and MP3
February 18, 2006
A brief presentation about non-linear narratives, used as a class material.
download pdf (in portuguese)
January 18, 2006
I gave a presentation at the conclusion of my resident artist program at the ZKM (Center for Art & New Media, Karlsruhe, Germany). The first part was about my project that won the Media Art Award and the residency, Gridcosm 1000-000, and the second part was about the project I developed during my residency, Mind VJ. Both parts are archived on YouTube:
Gridcosm (1st part)
Mind VJ (2nd part)
July 15, 2001
A paper about Lev Manovich's piece "Little Movies". Written for the Interactive Documentary class at the Master of Media Studies Program, New School University.
April 12, 2001
A short paper about the SITO.ORG website. Presented at the Critical Themes in Media Studies Conference, 2001, New York.
July 30, 1999
I finished my Masters degree at PUC-RS with a research about SITO.ORG's project GRIDCOSM. It's called: "NOVAS IMAGENS PARA UM NOVO MEIO – Um estudo de caso do website de arte interativa SITO" and it's available for download as  PDF (in portuguese only)
November 12, 1997
Paper about man vs. machine, written for the Sociology of Communication class at the Master of Communications, PUC-RS, and also published at Não-til magazine.
download PDF (in portuguese)
October 22, 1997
Paper about art, images & digital media. Presented at the International Seminar: "Culture in the Information Age". PUC-RS, 1997.
Read the paper (in portuguese)
October 15, 1997
Paper for the class "Communications in the Digital Era", Masters in Communication, PUC-RS.
download PDF (in portuguese)
November 2, 1993
A study about digital images. My final paper for the undergraduade program in Communications at UFRGS University.
download pdf (originally a TXT-ASCII file – in portuguese)
December 2, 1991
I worked as a researcher at the Laboratory for Electronic Art & Design, FABICO/UFRGS from 1991 to 1999. Under the orientation from professors Flavio Cauduro and Marilia Levacov, we researched Digital Art & Design, studied and participated in the birth and growth of the World Wide Web, developed events and curricula, talked to modems, among many other things. As a tribute to those times, I put online a back-up of the lab's first web pages, plus a later redesign. You can also check out its current website and learn about the people who are carrying on with research at LEAD nowadays.
April 6, 2015
Print, Cut and Play! Download the game and learn about alternative currencies.
June 10, 2014
An antropological culinary experience: Brazilian flavors as perceived by Germans. Watch the brave volunteers who prepared and tried a feijoada (bean stew) pizza.
November 27, 2013
My body's reaction to winter in high latitudes is to jolt up at the first ray of light. Then I take winter sunrise pictures.
January 7, 2012
Astronaut cats, serendipity, blog addiction confessions and more in a 6-minute attempt at stand-up comedy at Pecha-Kucha Berlin. Slides & audio.
November 28, 2011
I'm the Berlin correspondent of Julio Costa's Art & Technology radio show.
Check out the latest episodes and subscribe to the podcast (in Portuguese)
June 12, 2009
a collection of snapshots.
things I find curious, images I want to remember, my daily routine…
February 17, 2009
I just created a page that displays all my activity from sites like twitter, facebook, flickr, fotolog and the like. Check out here my online trail. 
August 9, 2008
A walk on a sunny day in Frankfurt. From the Zoo to the River bank. My walked path with pictures taken along the way.
UPDATE: also my Berlin 'round the block picture tour featuring nice cafes, restaurants and sitting opportunities along Kastanienallee and Oderbergerstrasse.
July 23, 2008
Some pictures of weird, funny, disturbing, nonsensical, ugly, and mildly interesting signs, collected as I walk around. Enjoy.
October 16, 2007
I spent a week in Shanghai, thanks to the kind invitation from Carmen and Wolfram from re|act festival. My eastern adventures are posted at my travel blog.
November 11, 2006
I'm a partner at this communication agency dedicated exclusively to cultural-related clients and jobs. Maria Cultura offers services ranging from strategic planning and marketing to design, production and documentation.
October 16, 2004
A collection of pictures of me and other people, animals, things… showing their tongue.
July 3, 2003
a sample of my design works,  featuring: web, flash, print, illustrations, e-flyers and resume.
May 19, 2003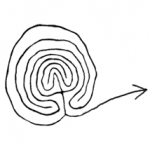 PHOTOGRAPHS & OTHER FICTIONS
A labyrinth built by James Graham
Site designed and realized by Lenara Verle
October 29, 2001
Now you can have your own Lenara in your event!
Who needs fancy telepresence robotics or cyborgs? Using a simple technology called cardboard, you can print and assemble your natural-sized Lenara and customize it by writing the desired speech into the provided talk bubble. Just cut and fold along the lines to assemble!
See you there!!!
August 30, 1999
in 1999 I went to the Burning Man Festival, in Black Rock City, Nevada, and wrote an article about it. (portuguese)
July 21, 1999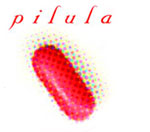 www.pilula.com.br
my webzine. created with Mari Fiorelli
November 11, 1998
I traveled coast-to-coast the US with my sister. Along the way we took pictures, wrote about our trip and posted all on the web. So did our hosts. Later I collected all the travel reports in a book (pdf)
April 9, 1998
An overdose of myself. Some friends claim to show this page to roommates before I visit so they can "meet" me. Click if you're brave, and rotate a 360 QTVR of my head while watching videos and animations featuring yours truly.
October 9, 1996
Since 1996 I've started a tradition of doing a "cyberparty" on my birthday, with invited cyberguests showing up via videoconferencing. Here is some documentation from it and a magazine article (pdf – in portuguese).
October 12, 1994
A tour through Porto Alegre. The first webpage I ever designed.